27 Oct 2022
State-of-the-Art Operating Theatre to Feature Live and Simulated Surgery at Future Surgery 2022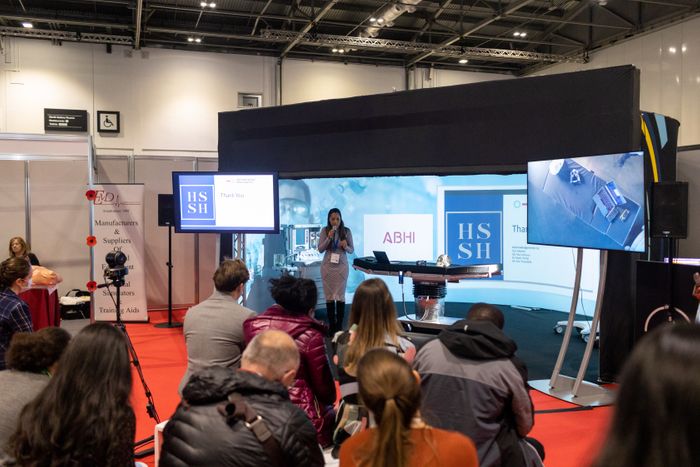 A ground-breaking 'Surgical Simulation Theatre' that allows visitors to watch some of the UK's best surgeons perform both 'live' and simulated surgery will once again be returning to Future Surgery 2022.
Organised by the Association of British HealthTech Industries (ABHI), the one-of-its-kind simulated operating theatre will give world-class surgeons a platform to demonstrate the latest pioneering surgical techniques to an audience of over 4,500 healthcare professionals.
Visitors will be able to watch a wide array of cutting-edge demonstrations courtesy of some of the UK's leading clinics and hospitals, including Guy's and St Thomas' NHS Foundation Trust, Moorfields Eye Hospital, London, the London Osteotomy Centre, Royal Berkshire NHS Foundation Trust and OS - Orthopaedic Specialists.
The state-of-the-art theatre will also feature demonstrations of new and pioneering technologies, including Proximie – a novel technology platform that allows clinicians to virtually 'scrub in' to any operating room or cath lab from anywhere in the world – and CircCurer™, an innovative circumcision device that is revolutionising surgery times for urologists.
Paul Benton, Managing Director, International, ABHI, said: "Future Surgery is a truly unique platform for experts and innovators in surgery to come together. We are excited to once again be hosting a dedicated ABHI Pavilion at the exhibition, giving visitors an unrivalled chance to see a series of ground-breaking surgical simulations performed live. Our simulated operating theatre will provide a platform for world-class UK clinicians to showcase their skills and leading providers to engage and educate visitors."
The ABHI 'Surgical Simulation Theatre' will feature an action-packed programme across the two days. Some of the highlights include:
· Surgeons from Guy's and St Thomas' NHS Foundation Trust theatres will be performing a live knee joint preservation surgery via Proximie from hospital theatres. The demonstration will be livestreamed onto the ABHI Surgical Simulation at Future Surgery using Proximie. The session will mark the launch of the hospital's Virtual Visiting Professional Programme – a unique educational experience that allows visitors, anywhere in the world, to observe the hospital's leading robotics team in its clinical settings.
· Finding the needle in the haystack through a keyhole. Barts Health NHS Trust will be performing a simulated incision-free localisation of a tiny lung cancer, biopsying it and marking it for a targeted, lung-sparing resection, using navigation robotic bronchoscopy, cone beam CT and image-guided robotic surgery. Pioneering technology used in simulation include the Ion robotic bronchoscope, da Vinci Xi surgical robot, in a state-of-the-art hybrid theatre.
· Leading surgeons from the Royal Berkshire NHS Foundation Trust, in the fields of Urology and Bariatric, will be live on stage to discuss the most recent developments around robotic-assisted surgery in their respective disciplines, and to share a live demonstration of robotic-assisted surgery with a da Vinci Xi surgical system on a dry model.
· Moorfields Eye Hospital, London will demonstrate pioneering Artificial intelligence in cataract surgeries. Consultant Mr George Saleh, Director of Simulation Training, will be presenting on virtual reality and AI themes in ophthalmology highlighting some of the key research outcomes the hospital has discovered.
· Leading consultants from OS - Orthopaedic Specialists, Mr Ali Noorani and Professor Roger van Riet, will be leading a simulation focusing on elbow injuries in elite athletes. The duo will talk about their approach and show some examples where timing of surgery, minimal invasive surgery and arthroscopy play an important role.
· Consultant Oral, Maxillofacial & Aesthetic Surgeon Miss Natasha Berridge will be sharing her experience of the important role of photo surgical simulation in planning for facial feminisation surgery (FFS) with highlighted cases. Rapid advances in software and image processing are revolutionising current clinical practice. Miss Berridge will demonstrate how photo surgical simulation has become an invaluable tool within the specialist field of FFS.
· In a UK first, a pioneering surgical technique for male medical circumcision that avoids cauterisation and reduces surgical time by a third will be demonstrated for the first time at Future Surgery. Led by Consultant Urological Surgeon Matthew Liew at the Wrightington, Wigan and Leigh NHS Foundation Trust, the novel approach – performed using the CircCurer™ device – presents a step change for urologists reducing surgery times to a 5-minute procedure instead of 30 minutes.
Future Surgery 2022 takes place on 15 and 16 November 2022 at ExCel, London.
Delivered in partnership with The Royal College of Surgeons of England, Future Surgery will be the biggest gathering of surgical and operating theatre teams with over 100 exhibitors and 100+ speakers set to attend this year.
The event's programme can be found here.
To register your place*, visit: https://www.futuresurgeryshow.com/welcome
*Future Surgery passes are valued at £499+VAT, however, if you are a registered Health Professional in the UK you may be eligible for a complimentary pass.