20 Sep 2023
Prospitalia h-trak – h-trak point of care data capture system – Capture data once, use many ways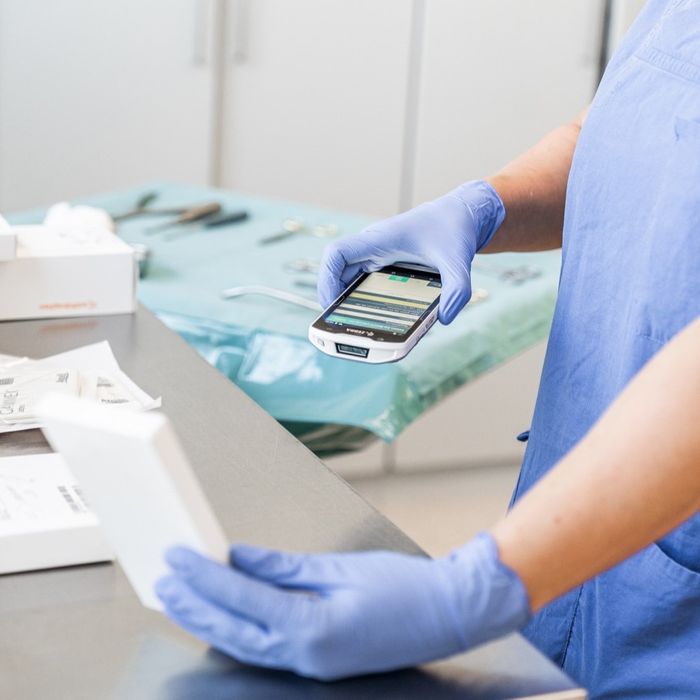 What is h-trak?
Using barcoding and mobile data capture technologies, our h-trak system accurately identifies products used in surgical procedures to provide information to improve patient safety by tracking and tracing clinical implants, while at the same time providing a rich source of procedure information and triggering stock replenishment - to leave it just to these few lines is certainly an over-simplification of the system however!
Founded in Australia in 2002, where it has been developed and used extensively, h-trak was introduced to the UK in 2014 for tracking, purchasing, inventory management, costing and reporting functions in critical care environments. In 2016, h-trak was the main supporting technology for Derby Teaching Hospitals NHS Foundation Trust when they became the first NHS Trust to be accredited under the Department of Health's "Scan4Safety" programme.
Now one of the leading scanning solutions in healthcare today, h-trak is underpinned by a database of 1.4 million barcoded medical products. Currently in use in over 1,000 operating theatres and procedure rooms in public and private healthcare markets in the UK, Australia and Germany, h-trak has enabled more than 6 million surgical procedures to be fully costed and captured in the UK alone.
Clinical, Procurement and Finance healthcare professionals are benefiting greatly from h-trak data to review performance, achieve cost savings and make supply chain and clinical decisions – but how does it all work?
h-trak – simple to use mobile data capture
h-trak is a point of care data capture solution providing accurate healthcare information to enable hospitals to achieve cost savings and process efficiencies. Proven effective in Operating Theatres, Cardiology Cath Labs, Interventional Radiology Labs and Endoscopy/Day Surgery Theatres, amongst others, the system is adaptable and customisable depending on the hospital or trust's requirements. Ocular to Orthopaedic, the h-trak system is flexible in its application and provides details down to the granular level and, with its system's interoperable nature, information can be passed through the healthcare system – Clinical, Procurement and Financial teams can all benefit from devices being scanned once at the point of care.
Using the latest portable handheld mobile scanning technology, h-trak decodes industry standard manufacturers' barcodes to accurately identify these devices. When combined with other data sources h-trak provides an accurate record of all components of a procedure and its associated costs. Clinical, Finance and Procurement managers can then use this data to review performance, make informed decisions and automate functions, such as purchasing and auto-replenishment.
Implants scanned during the patient procedure can easily be identified for 'track and trace' purposes, meaning that "sticker books" are no longer needed, saving huge amounts of time in the event of a recall whilst also providing much greater accuracy in identifying patients who are affected. This 'track and trace' functionality also enhances patient safety as it captures lot numbers to patient level, and alerts care givers when the product is out of date. Alongside this, the procedure – including the implants and devices used – can be interfaced with the patient's record providing a full listing of devices used as well as patient-level costing details.
Turning to inventory management, when implants/higher value products are scanned, they are recorded as used and h-trak considers whether they need replenishment. This means that only products actually used are reordered, not just those taken off a store room shelf. This also means that wastage can accurately be tracked and accounted for (e.g. a device dropped on the floor would be recorded as such - this will need to be reordered but you would know that it was not implanted in the patient).
When h-trak determines that a product is ready to replenish it can either suggest orders to be placed, which are confirmed by an authorised user, or automate the process. The automation could be on a selective basis with specific stock types from specific supplies being selected to automatically re-ordered, with all other suppliers and stock types to potentially be checked before sending. This removes the process of manual re-ordering to further return staff time back into patient care.
The h-trak system is an unobtrusive as possible, and while the mobile handheld scanning device can sit neatly out of the way the h-trak solution is also delivered on a SaaS (Software as a Service) model where all data is held on a cloud-based central server - so no application software is installed on a trust client's hardware. This means that the solution can be set up easily and data can then be accessed wherever and whenever it is needed.
We'd love to discuss h-trak further so please visit us at stand R61 for a demonstration and more information, or contact us at info@prospitalia-htrak.com