19 Jul 2022
How Mölnlycke are supporting the NHS in the recovery of elective care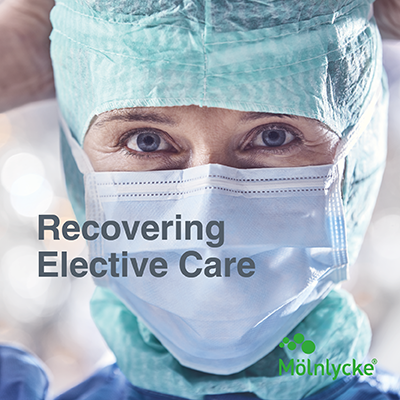 The challenge Mölnlycke is responding to
We all appreciate that the NHS has faced longstanding challenges around waiting times for elective care, which has only been magnified by the pandemic. The backlog has been exacerbated by the COVID-19 pandemic, which led to operations being cancelled as the NHS moved to an emergency footing. This has meant that at present there are over 6 million people waiting for elective care in England. Overcoming this huge challenge requires collaboration between the health service and industry. As a market-leading provider of surgical solutions, Mölnlycke continues to partner with the health service to tackle these challenges and ensure the service comes back better protected and stronger.
Mölnlycke is committed to being a trusted partner in protection, and we continually seek new ways to support the health service, patients and healthcare professionals. Our new Operating Room Solutions site hosts all the different types of support we offer to the health service as it faces these unprecedented challenges.
Why Mölnlycke is supporting elective recovery
We know that the recovery of elective care must be focused on patient outcomes and staff wellbeing, following an immensely challenging two years of the pandemic. That is why we commissioned a survey of 500 healthcare professionals1, to gain an insight into the solutions that can support them as part of the wider recovery. This has allowed us to shape our solutions to best support staff with the pressures they are facing.
The survey found widespread concern about the scale of the backlog, with 70% of healthcare professionals being concerned about the backlog of care in their hospital, and 54% feeling that the backlog of undelivered care was having a negative impact on staff morale and wellbeing. Among those surveyed, 98% agreed that industry had a role to play in supporting surgical teams to clear the backlog. Through our engagement with healthcare professionals, Mölnlycke is able to provide evidence-based innovations in product and services to deliver support to the NHS.
What Mölnlycke does to support the NHS recovery
Mölnlycke has a broad offer of products and solutions for healthcare providers to support service delivery and efficiency. Our offer can help alleviate pressures by identifying efficiencies across the patient pathway, and therefore enable healthcare professionals to spend more time with patients, as well as releasing time to support their own wellbeing and professional development.
To do this, Mölnlycke works in partnership with hospitals across a five step partnership programme to identify challenges facing clinical teams; gather data; identify key savings; and implement and audit outcomes. This can give clinical teams back time and enable the whole system to invest resources where the need is greatest. Given the current staffing pressures facing the health service, we know that maximising clinicians' time is critical.
In addition, we offer custom procedure trays which help to ensure that clinicians have the right products for each procedure, reducing component waste by up to 70%2 and generating efficiencies for theatre teams by reducing preparation time by as much as 40%3. To complement our custom procedure trays, the Mölnlycke Portal is designed to simplify the ordering and customisation of procedure trays, enabling Hospital Trusts to make the most of the time and economic efficiencies generated by them.
Through our partnership working with hospital leaders and clinicians, we are able to support the elective recovery by enabling clinicians to work smarter, rather than harder; whilst keeping both patients and clinicians safe.
How Mölnlycke is continuing the conversation on NHS recovery
The insights gained from our healthcare professional survey enabled us to consider how we move beyond our current products and services to drive thinking about how the NHS and industry can work in partnership to meet the challenge of supporting clinicians to clear the backlog of elective care and build back better in the health service. Our forthcoming Recovering Elective Care report sets out concrete actions to help the NHS recover from the pandemic and deliver the care that patients need.
In November at the Future Surgery Show, you'll be able to join that conversation at our Recovering Elective Care symposium. We will be bringing together some of the leading experts in healthcare to discuss how to tackle the backlog of care while delivering safer surgery for patients. Join the conversation at our Recovering Elective Care symposium on Day 1 in Theatre 1 at the Future Surgery Show.
Conclusion
Mölnlycke is proud to work as a partner in protection to the health service, helping to ensure that the health service recovers from the pandemic stronger and better protected. Our Operating Room Solutions resources support surgical teams and hospital managers to deliver safe and efficient care for patients. We are proud to be continuing our collaborative approach to supporting the elective recovery by helping theatre teams deliver the best outcomes for patients, and helping hospitals to keep patients and healthcare professionals safe.
Visit the Mölnlycke exhibition stand at the Future Surgery show to learn more about how Mölnlycke can support you and your hospital.
References
Censuswide Survey, Mölnlycke commissioned survey of 500 healthcare professionals, December 2020, data on file.
Shayler, M. Assessing the carbon and waste benefits of moving to procedure packs at Royal Liverpool and Broadgreen University Hospitals NHS Trust (2011).
Greiling, M. A multinational case study to evaluate and quantify timesaving by using custom procedure trays for operating room efficiency. Data presented at European Association of Hospital Managers, September 2010 (poster).