04 Nov 2022
Ethicon takes its UK & Ireland hospital tour off-road to the Future Surgery conference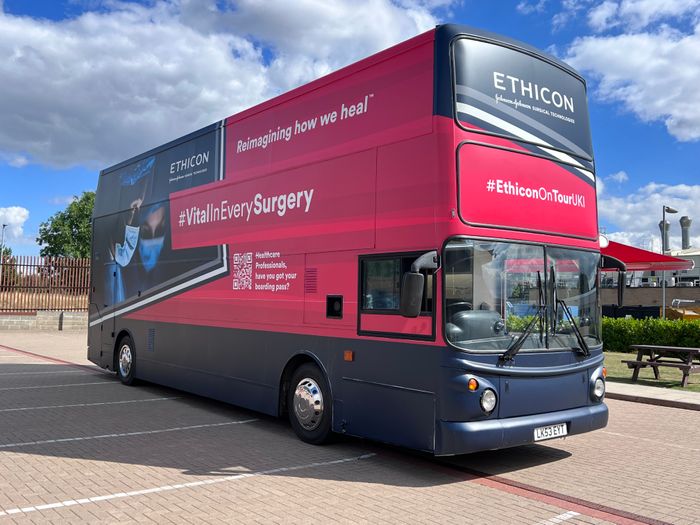 Ethicon, the Surgical Technologies Company of Johnson & Johnson MedTech, is planning to take its first-ever hospital roadshow across the UK & Ireland at the Future Surgery conference at ExCeL London, on 15-16 November 2022. It will demonstrate the role digital innovation has, and is playing, in supporting the NHS to tackle the backlog of patients waiting for treatment.
The Ethicon roadshow has visited 30 hospitals so far, and 1,309 customers have visited the bus already. One surgeon described it as "an amazing experience" that "trainees can utilise and improve their surgical skills as they progress throughout their training."
Ethicon's double-decker bus will be parked at the Future Surgery conference, giving delegates a unique opportunity to speak to representatives and industry experts about how driving digital transformation is pivotal in supporting the NHS to provide better patient experiences and outcomes.
"We're focused on creating a differentiated digital ecosystem to support successful implementation, data insights, and best practice sharing with hospitals across the UK," said Jenny Nagy, Ethicon's General Manager in Great Britain. She continued to highlight the value the company sees in this collaboration:
"Our Ethicon roadshow has given customers the opportunity to discuss innovation in healthcare and witness our innovations first-hand with our product demos hosted on the bus. Our mission may have been accelerated by the pandemic, but we're keen to continue to connect with our customers in-person to demonstrate the value we place on working together to advance the use of technology in tackling the biggest healthcare challenges."
Delivered in partnership with the Royal College of Surgeons of England, the Future Surgery show is an invitation for all members of the theatre team to stay up-to-date with the latest technologies. Delegates who attend the Ethicon bus will have the opportunity to do exactly this by experiencing its digital offering which has the potential to drive the next surgical revolution, by bringing together the value of Next Generation Robotics and Instrumentation, Advanced Imaging, and AI-powered Digital Solutions.
Spread across the two days, Ethicon will also offer exclusive hands-on training designed to enhance laparoscopic skills for specific Gynaecology and Colorectal procedures, and this will be streamed live on the Johnson and Johnson MedTech UK & Ireland social channels.
Yemi Ibidunni, Event Director for Future Surgery said: "We're extremely excited that Ethicon has chosen the Future Surgery show to refuel amidst its ongoing hospital roadshow. The COVID-19 pandemic has contributed to huge backlogs in elective care and Future Surgery aims to offer diverse perspectives on how to help improve the current situation for all members of the surgical care team.
"We're excited to welcome Ethicon's bus to Future Surgery this year, where we know the team will be offering a collection of activities that will show new and innovative ways of tackling the challenges our healthcare services are facing today."
To view the 2022 conference programme and register your place*, visit: https://www.futuresurgeryshow.com/welcome
*Future Surgery passes are valued at £499+VAT, however, if you are a registered Health Professional in the UK you may be eligible for a complimentary pass.
Ends
Notes to Editor:
About Ethicon
At Ethicon, a Johnson & Johnson MedTech company, putting humanity at the core of care is our passion and our purpose. In collaboration with clinicians and health care experts around the world, we develop clinically-differentiated surgical technologies and solutions to help address some of the most pressing health challenges of our time such as metabolic disease, cardiovascular disease and cancer. Through our efforts and ingenuity, we aspire to elevate standards of care and create a healthier future for the patients of today and tomorrow. Reimagining how we heal. Visit www.ethicon.com to learn more about us.
About Johnson & Johnson MedTech:
At Johnson & Johnson MedTech, we unleash diverse healthcare expertise, purposeful technology, and a passion for people to transform the future of medical intervention and empower everyone to live their best life possible. For more than a century, we have driven breakthrough scientific innovation to address unmet needs and reimagine health. In surgery, orthopaedics, vision, and interventional solutions, we continue to help save lives and create a future where healthcare solutions are smarter, less invasive, and more personalized.
About Future Surgery:
The Future Surgery conference is designed specifically to meet the training needs of surgical professionals and their multidisciplinary teams in perioperative care, the show features a high-quality CPD accredited speaker programme.
The conference brings together world-leading academics and industry experts. Providing delegates with an unrivalled opportunity to explore the latest trends, develop their skills and stay-up-to date with the latest technologies and innovations that are shaping the future of surgery, in a highly rewarding environment.