20 Sep 2023
Advanced Medical Solutions' Biosurgical Products Marketed Under the Resorba® Brand Have Been Greatly Appreciated by Surgeons for Many Years.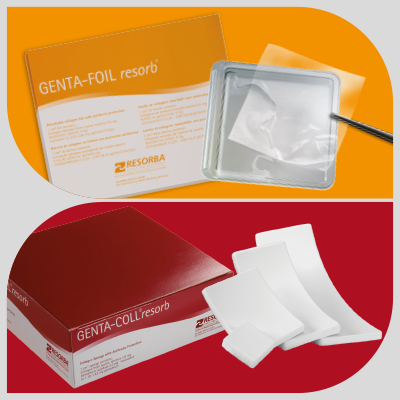 We manufacture a range of collagen-based products to assist with haemostasis, tissue healing and adhesion prevention for various surgical disciplines including trauma and orthopaedics, CVT and neurosurgery amongst many others.
Our collagen products are produced in Germany to the highest standards. We use collagens of equine origin and manufacture them into medical devices either alone or in combination with antibiotics.
All our collagen products are implantable and resorbable and therefore do not require a second procedure for removal. Our GENTA-COLL®resorb and GENTA-FOIL resorb® ranges incorporate the aminoglycoside antibiotic gentamicin to protect the implant from bacterial colonisation.
GENTA-COLL®resorb is a collagen sponge designed to be used as an absorbable haemostatic agent haemostatic agent and defect filler, combining the proven properties of collagen with gentamicin.
GENTA-FOIL resorb® consists of a transparent collagen film with the addition of gentamicin, intended to be used as a temporary adhesion barrier between various anatomical layers and structures. It has additional wound healing properties due to the collagen content.
GENTA-COLL® resorb and GENTA-FOIL resorb® are greatly important to both surgeons and patients. In addition to their function as adjuvants after surgical debridement in revision procedures, they can also be used after initial implantation. This is reflected in the results of many scientific studies available.
Our biosurgical portfolio also contains dura-replacement collagen products, synthetic bone grafts and oxidised cellulose.
Our focus is on the development and production of innovative and practice-oriented solutions for the benefit of users and patients. Please visit www.resorba.com for further information on our full biosurgical product range.
We look forward to meeting you at the Future Surgery Show on stand M62.
Contact details: Mark Culf Business Development Manages, email and phone number.