Bringing hearing health to the masses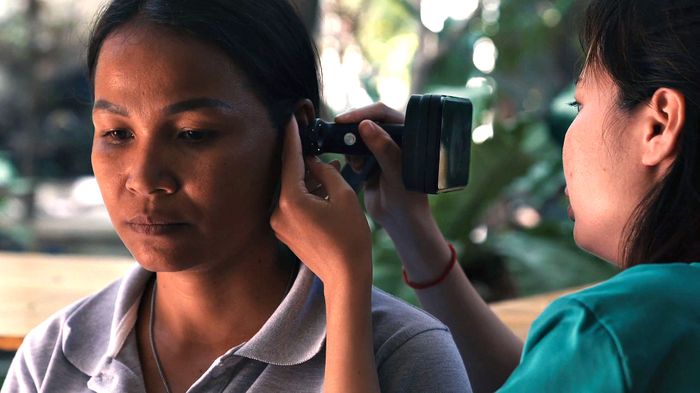 He wanted to revolutionise hearing health by using smartphone technology to create an accessible, all-in-one system that could offer the entire "ear clinic" in one place. He came to Team Consulting to help turn his initial prototype into a commercially successful medical device.
Since its launch, the Tympa System has gone on to win several global awards, including a UX Design Award - Gold, iF Design Award and Good Design Award. So what makes the device so compelling?
Idea
According to the WHO, half a billion people worldwide suffer from hearing loss, however many of them are not recognised and struggle to access care. The Tympa System, a portable smartphone-enabled otoscope, was designed to improve the democratisation of hearing healthcare. It is the first device that offers the full 'ear clinic' in one place, making regular check-ups, ear wax removal, hearing screening tests, diagnosing and managing disease more accessible for all, no matter their age, socio-economic background or location.
Function
The device features a simple user interface that allows image capture, data entry and diagnosis to be carried out in the designated smartphone App. Image enhancement is achieved via integrated precision optics, while the ear speculum allows access for a micro-suction probe for ear wax removal.
Form
Designed for ease of use for both specialist and non-specialist users, the Tympa System has a robust construction, comprising a glass-reinforced chassis and cast aluminium arm to ensure stable optical performance. With balanced weighting, it has an adjustable ergonomic handle designed for practicality and prolonged use, for both left and right-handed users.
Differentiation
The Tympa System is the world's first product that offers high-resolution otoscope imaging, microsuction and hearing assessment in a single device. Its affordability and portability mean it can also be used in resource-poor social contexts where hearing care is limited.
What's next for TympaHealth?
Since its launch, the Tympa System has been picked up for use in the high street pharmacy Boots and has successfully been trialled for use in the NHS. It is now being used in pharmacies, opticians and other health providers across the UK, empowering communities with better access to hearing care.