25 Aug 2022
Anetic Aid adds QA3 Ophthalmic Stretcher to QA3 Stretcher range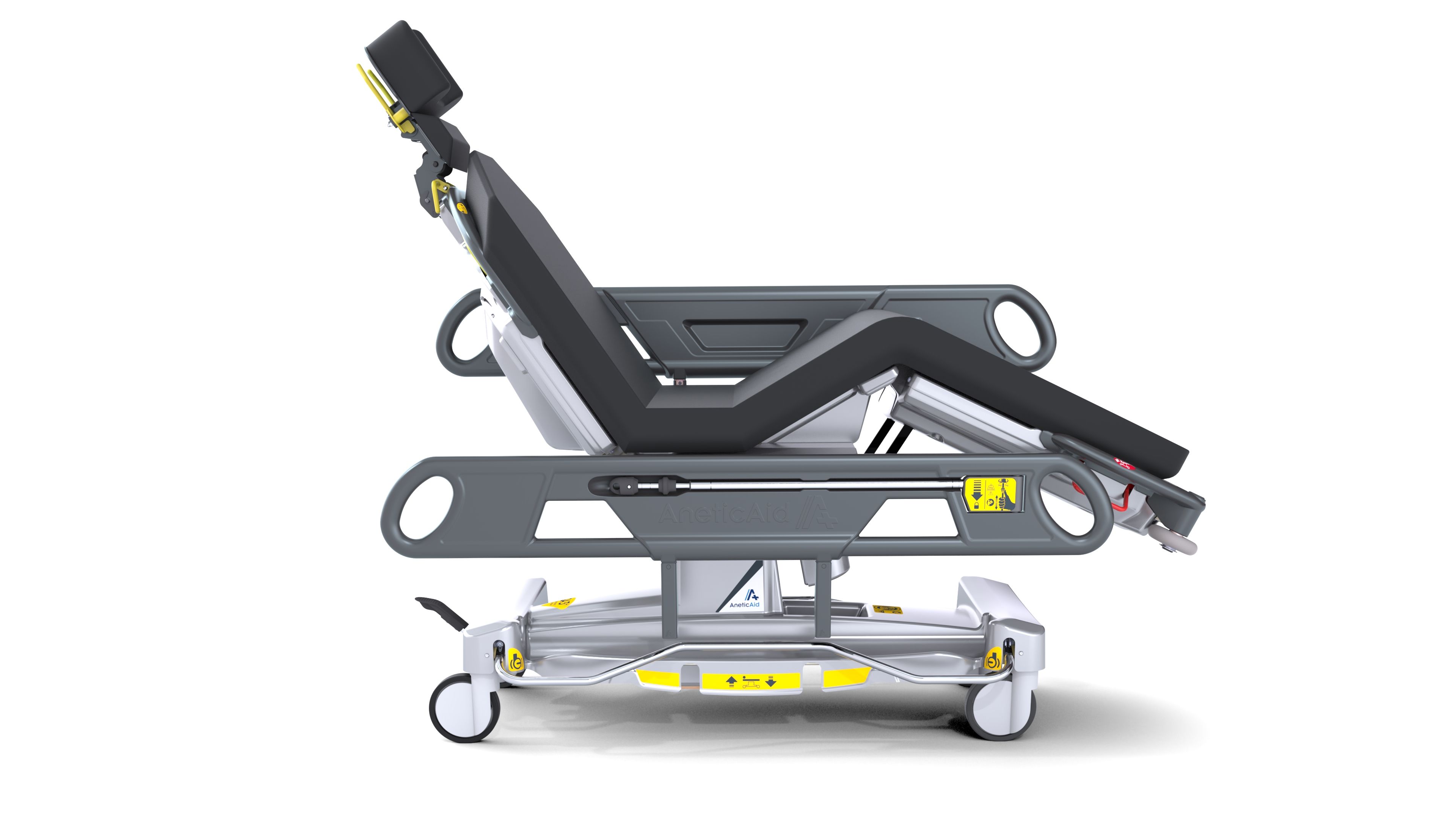 New QA3™ Ophthalmic Stretcher combines outstanding surgical access with patient comfort
UK-based medical device manufacturer Anetic Aid has added to its flagship QA3™ stretcher range with a new version specifically designed for transport, treatment and recovery of patients undergoing ophthalmic procedures such as oculoplastics, cataracts, retina and glaucoma surgeries.
It features a dual-articulating headrest, which includes a specially shaped cushion and padded neck plate, offering movement in three different planes.
Once locked into place, there is 585mm of clearance underneath the head and back section for optimal (and comfortable) surgical access from both a superior and temporal approach.
Powered positioning
Other built-in benefits include powered positioning – minimising lifting and handling risks for practitioners dealing with increasing patient weights.
The entire stretcher platform and the backrest can be raised or lowered electronically from the panel at the foot end – and additional powered positioning includes independent knee flex and knee flex combined with backrest elevation for additional patient comfort during recovery.
The practice of using just one platform also supports infection control, thanks to reduced contacts and transfers and fewer items of equipment required for the patient journey. The 700mm wide K8 pressure care mattress, fitted as standard, has antibacterial properties – and its memory foam construction is another feature which aids patient comfort.
First models now in service
Although only launched a matter of weeks ago, more than 20 models of the new stretcher are already in use or being scheduled for delivery to Trusts around the country.
Explained Anetic Aid's Product Manager Mark Lee:' We had been working for some time to evolve a version of the QA3™ specifically for eye surgeries: we kept hearing that our QA4™ Mobile Surgery System was over specified for dedicated ophthalmology theatres, so our goal was to incorporate all the elements that were needed in a cost-effective platform.
'The powered version of the QA3™ Patient Stretcher was the perfect starting point – and some of the key engineering elements were to sculpt the backrest for greater surgical access – which we also facilitated by moving the pivot point for Trendelenburg. We were careful not to compromise any of the aspects that make the QA3 so popular - its light weight and unrivalled manoeuvrability.
Developments refined after trials
'Once these elements had been developed, we embarked on a series of extensive trials with some of the UK's renowned specialist ophthalmic units. We are extremely grateful to all of the surgeons, anaesthetists, nursing and ODP staff for their support as we put the stretcher through its paces in countless cataract, detached retina, tear duct procedures and other oculoplastics.'
The new ophthalmic stretcher – which has the lowest height option of any trolley on the market for easy patient mount/dismount - is the latest addition to the company's portfolio which includes the QA3™ Patient and Emergency Stretchers, the QA4™ Mobile Surgery System, Tourniquet Equipment, Operating Table Accessories and Stainless-Steel Furniture, together with supporting servicing and maintenance.